Rose's Applicators: Lotion Applicator and Sunscreen Applicator for Hard-to-Reach Areas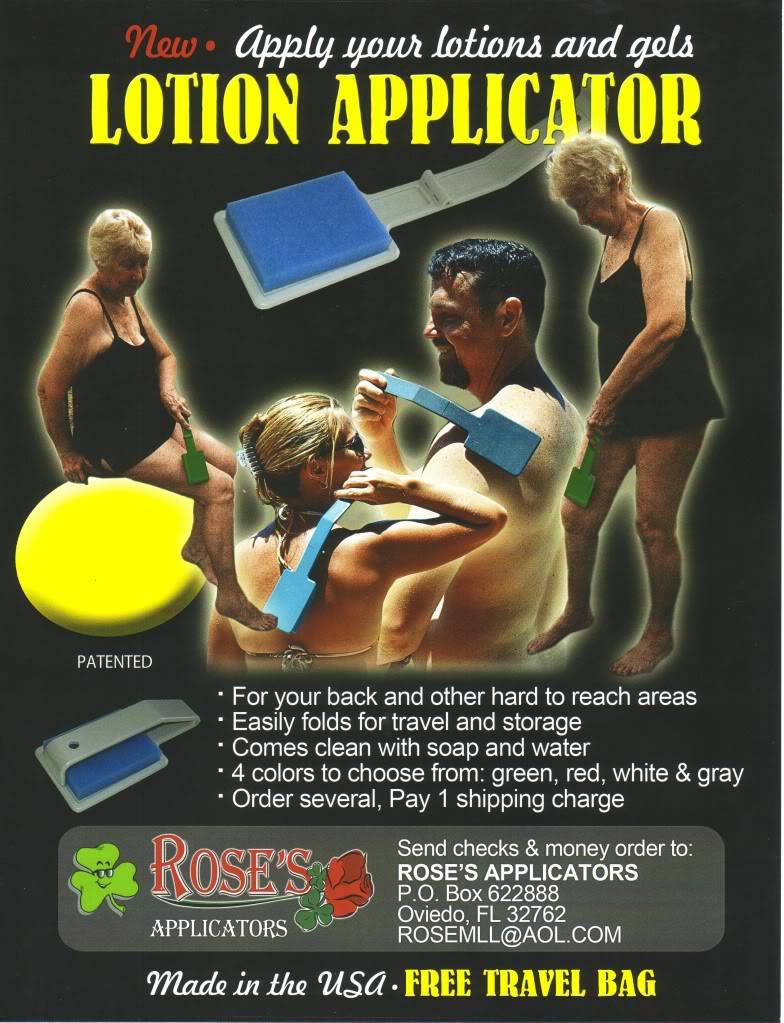 Are you tired of stretching, reaching and bending to access that place on your back that could use a bit of lotion? Have you just stopped asking others to rub sunscreen on your back, because that's become a little more exhausting than reaching for yourself? Never fear, friends! Rose's Applicators are finally here! An applicator for sunscreen and lotions that will help you get to those hard-to-reach places is on the market, and you won't have to stretch, bend, or ask friends and family for help any longer! This product can be utilized in many different ways. The lotion applicator can be used for applying suntan lotions, gels, creams or oils. It can also be used in hospitals and dermatologists' offices for other medical situations or conditions. Its multi-purposes and uses renders this invention a valuable asset to the cosmetic, suntan and medical industry. Behold the practicality of this creative, unique and handy tool— a travel compact lotion applicator!
The best part is that it folds for easy travel and storage, and can be cleaned using soap and water. The handle is designed to fold and rest on the bottom edge to protect the sponge. The unusual design of the handle adds additional inches not only in arm extension but also in arm flexibility. This handle provides an angle never seen before to help alleviate straining the arm. This special angled handle provides easy access to the middle of the back, the back of the legs and from over-extending and straining. The lotion applicator adds a definite benefit for persons with limited arm range. The curved tip at the end of the handle keeps the handle from resting on the sponge and also helps in gripping the end of the handle while applying lotions. Its trimline handle width fits comfortably in the center of one's hand. Its compact shape is designed to travel well and the sponge surface is protected by the folding handle. The sponge is square and a good shape to cover areas of the back easily. Also, in addition to its general use, this device can be easily used as a back sponge while showering. However, the main use of the lotion applicator is to apply lotions, gels and oils to the back and other hard-to-reach areas. This sponge applicator cleans easily with soap and water. This applicator is not only for suntan products or for medical products but can be used for the general application of creams to dry skin, as well as, a basic travel shower back sponge.
Rose's Applicators are uniquely shaped applicators that curve to the shape of your back, and reach specific areas, in the higher spots, mid-region and lower section, and places that are hard to access. There are four colors to choose from: green, red, white and gray. If several applicators are ordered at one time, only one shipping charge will be required and a free travel bag will be provided.
Refer to the Contact Me Page to order the lotion applicator for $12.99, plus $4.99 S&H (also see Rose's Art). Call and order yours now!